As a complete system, Hybrid Synergy Drive is a clever, fuel-saving technology that can automatically switch between electric power and conventional engine power. Capable of adapting to different driving conditions, Hybrid Synergy Drive intelligently controls the power coming from both sources and tells the car how to combine them for the greatest efficiency and power.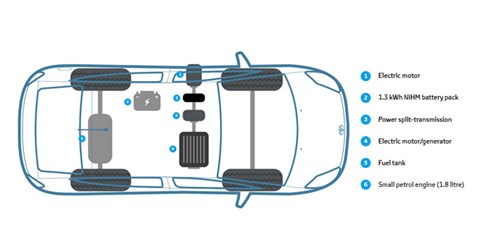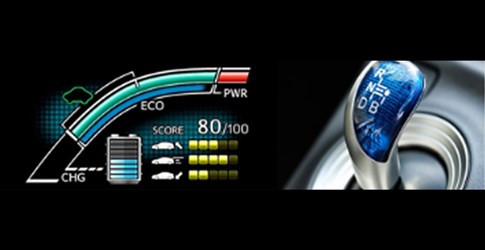 The way that the petrol-driven regulator combustion engine and battery-powered electric motor work together means that there are four different kinds of hybrid setup:

1. Uphill: Both engines power the vehicle to deliver maximum performance.
2. Deceleration and Braking: The system recycles kinetic energy to charge the battery.
3. Overtaking: Both engines power the vehicle to deliver maximum performance.
4. Standstill: Both engines are automatically switched off so no energy is wasted when idling.

The switches between the engines are done automatically. Best of all, hybrid vehicles are driven in the same way as a conventional vehicle.
Toyota hybrids have four drive modes: Normal, EV, Eco and Power. When you first start your hybrid, the car defaults to the 'Normal' drive mode, which automatically manages the most efficient use of both the engine and the battery. Drivers can also select one of the car's on-demand drive modes to achieve better fuel consumption in certain settings.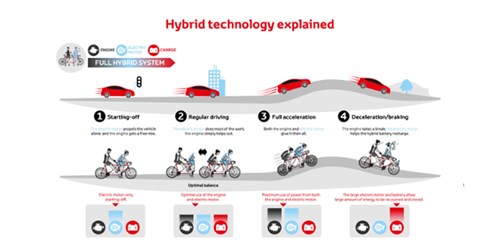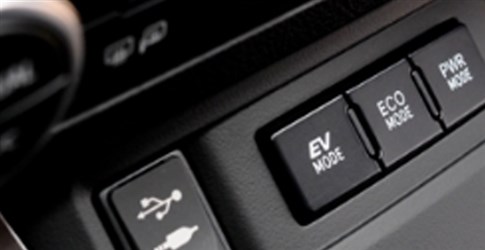 These drive modes are: EV Mode where the car is powered by the battery only during city driving, running near-silent and with no tailpipe emissions; Eco Mode that reduces A/C output and lessens throttle response to limit harsh acceleration; and Power Mode which boosts acceleration by using the hybrid battery to assist the petrol engine.

What is a Hybrid? How Does Hybrid Technology Work?
Since day one, Toyota has believed that environmentally efficient vehicles can truly make a significant, positive impact if they are widely used. This is why Toyota has developed and encouraged the mass adoption of hybrids around the world. A hybrid is a vehicle with two or more power sources. Most hybrid cars use a normal internal combustion engine paired with an electric system.

Since the introduction of the Toyota Prius in 1997 (the world's first hybrid vehicle) and showcase of the innovative, world's first Hybrid Synergy Drive. Toyota designed the Hybrid Synergy Drive so the vehicle would utilize electric power (which it stores in the battery) instead of gasoline power when necessary. This ensures a smooth, quiet ride. The hybrid system has revolutionized the automotive world; the Toyota Prius has sold more than 10 million units. This is more than a numerical milestone - these sales demonstrate the power of a technology that has emerged as a mainstream choice for reducing harmful greenhouse gas emissions and other pollutants.

Toyota's Hybrid Synergy Drive system is comprised of six primary components:

(1) Petrol Engine (2) an Electric Motor (3) an Electrical Generator (4) Power Control Unit (5) Power-Split Drive that uses a special gearbox to distribute energy from (6) the engine motor generator.

Do I Have to Drive Differently to Make the Most Out of Hybrid Technology? How are the Batteries Charged?
Toyota hybrids have been designed to be as easy to drive as possible, all you have to do is push the power button. The Hybrid Synergy Drive system is automatic and controls itself, allowing you to enjoy the fuel-efficient trip. Toyota Motor Corporation has designed the Hybrid Synergy Drive system to run independently without any effort from the driver. Toyota hybrid vehicles are not only easy to drive, quiet and safe – but they also have the added benefit of fuel efficiency and reduced emissions. Best of all, hybrid batteries are recharged without being plugged in and the vehicle optimizes itself to reduce fuel consumption.

Toyota's Hybrid Synergy system charges the battery in two ways:

1. The Petrol engine drives the generator to charge the battery. The second method us through regenerative braking, a system that puts the engine to good use.
2. Every time you put your feet down on the brake pedal or lift your feet off the accelerator -- the system diverts energy back to the battery. Instead of the energy being lost as heat or noise from the brakes, it is captured and then used to power the electric motor later. This is particularly efficient in stop-start traffic where the system recovers and stores a great deal of energy and improving efficiency.


Our Environmental Journey: Toyota Environmental Challenge 2050
Toyota's Environmental Challenge 2050 announced in 2015 is comprised of six separate challenges covering every aspect of Toyota Motor Corporation's automotive value chain, including its research and development in order to improve society and protect the environment.

Since its foundation, in 1937, Toyota has been consistently committed to protecting the environment and improving society by manufacturing automobiles, and leading innovation through technology and creativity. Meanwhile, climate change and extreme weather events caused by greenhouse gases, and atmospheric pollution caused by exhaust gases have become a threat to everyday life. At the same time, reserves of petroleum (the main energy source for vehicles) are dwindling. In response to this dire situation – Toyota is taking on challenges to improve Earth in 20 or 30 years to trying to reduce negative factors associated with automobiles as close to zero as possible, but also looking beyond zero, challenging in all-Toyota initiatives toward a net positive impact. Toyota has started its aspirational, Toyota Environmental Challenge 2050 where Toyota has set itself six challenges relating to climate change, recycling or water preservation for 2050.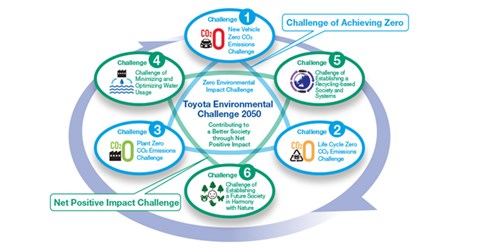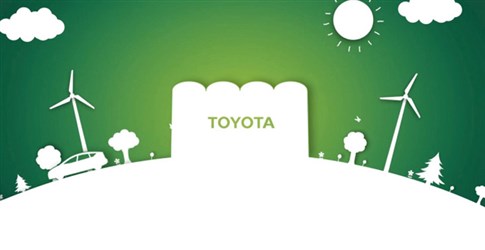 Environmental activities were categorized according to the three priority themes of the Fifth Plan: "contribution to a low-carbon society," "contribution to a recycling-based society," and "environmental protection and contribution to a harmony with nature society." Embracing these three themes, Toyota will contribute to the sustainable development of society and the planet by ensuring harmony with the global environment in its monozukuri (manufacturing), kurumazukuri (car-making) and delivery of products and services.