A Heritage of Quality and Reliability
With a heritage that dates back over a half century, the Land Cruiser's unrivalled off-road performance and durability have earned it a rock-solid reputation for reliability. And now — inheriting the pedigree of its predecessors while simultaneously achieving superior on-road performance and interior versatility at a high level, the Land Cruiser Prado takes a major step forward.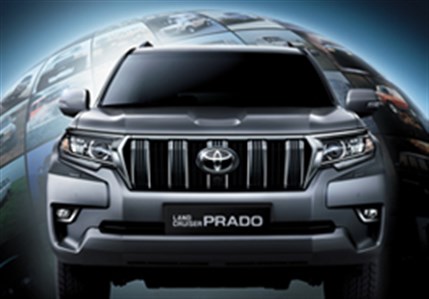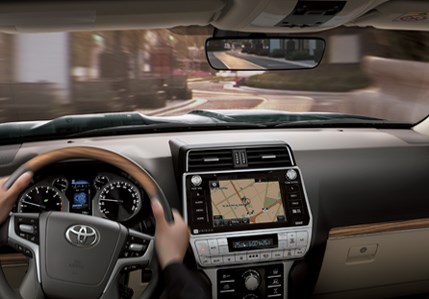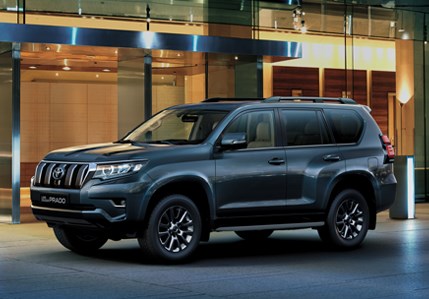 ENGINE & MECHANICAL FEATURES
Dual VVT-I and a roller-rocker arm offer fully variable, continuous control over intake and exhaust valve timing, with high torque and output, excellent fuel efficiency and low exhaust emissions across the entire rpm range. The result is a powerful and responsive driving experience that lives up to the Prado tradition.

- 4.0 L, 6 Cylinders, Dual VVT-I
- 271 HP @ 5,600 RPM
- 38.9 Kg-m @ 4,400 RPM
- Central Differential Lock with LSD

TECHNOLOGY
Superb Maneuverability, Wherever You Go
Even in narrow streets and tight corners, Prado's smooth, nimble handling assures driving ease that makes you not feel the vehicle's size. The rigidity, strength, and durability of the Prado frame have been advanced by reinforcing the frame cross-section to secure superior torsional and flexural rigidity.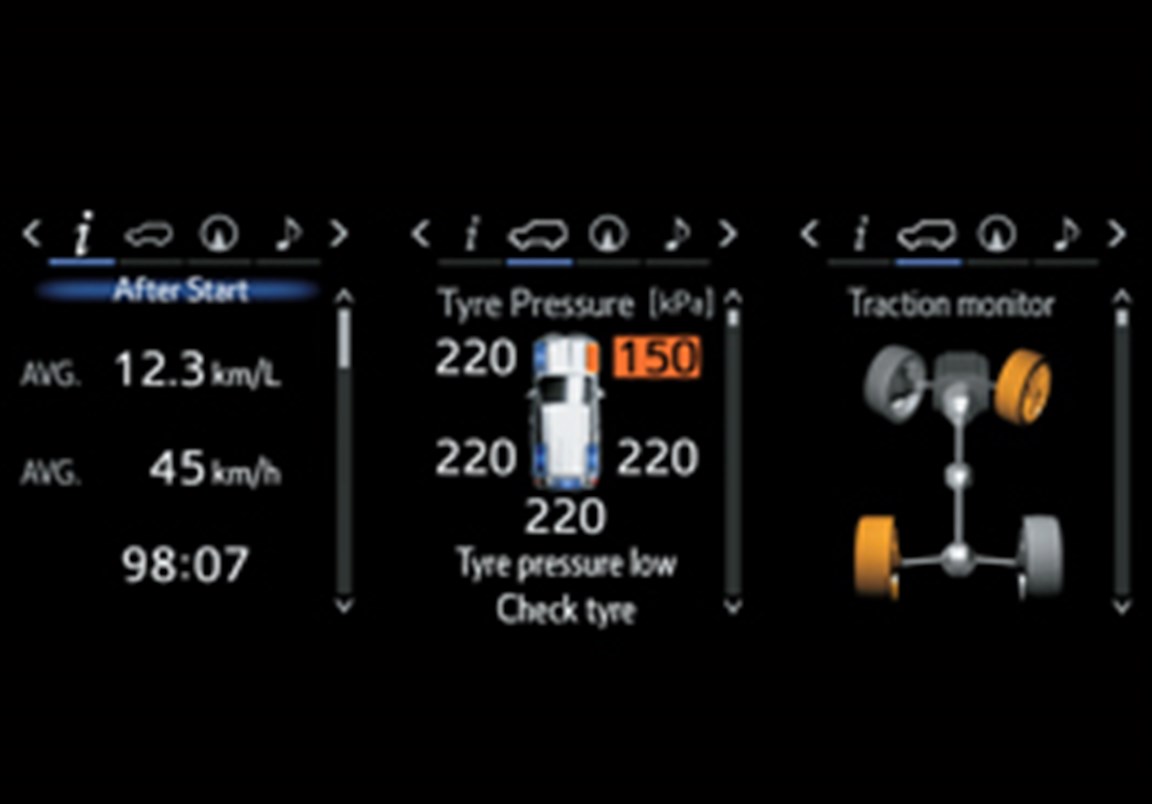 Inside the interior cabin, the advanced 4.2-inch color TFT multi-information display presents a wide range of information like:

⦁ Shows steering angle, with amber coloring to indicate traction control in L4 mode.
⦁ Shows the pressure of each tire in real-time.
⦁ Shows fuel economy, cruising range, speed and other essential information.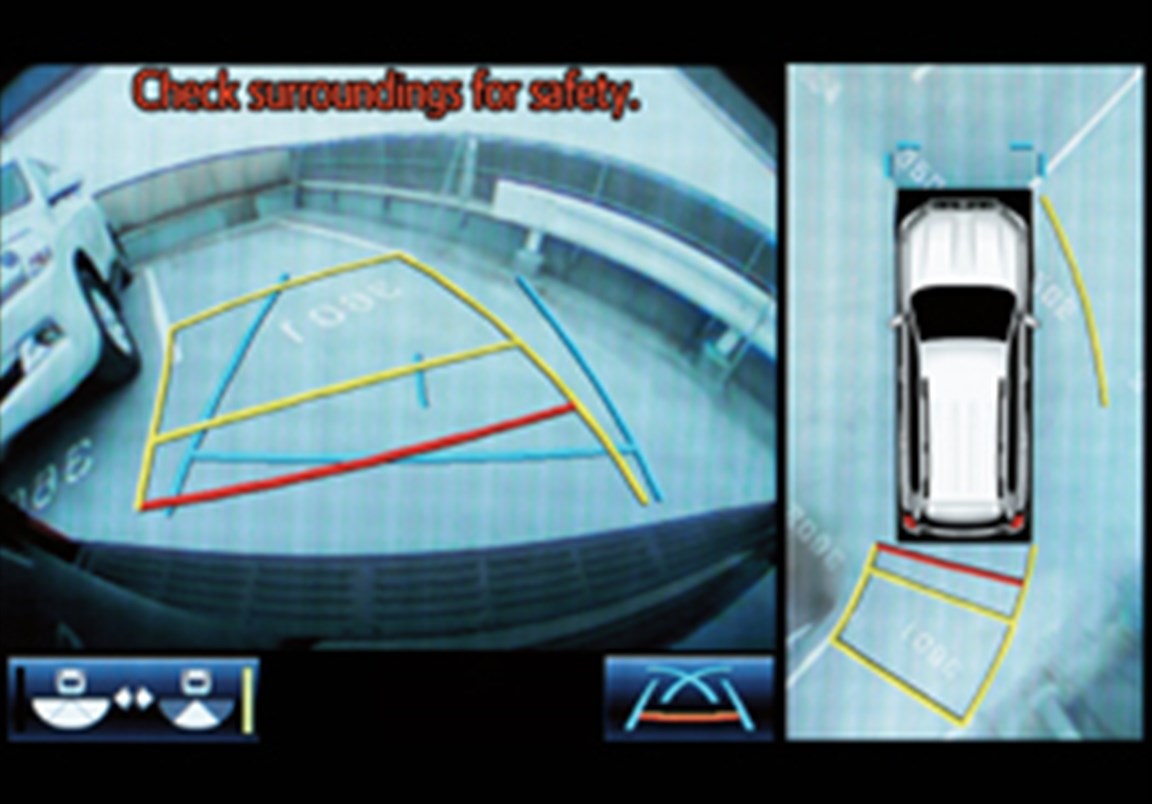 EXTERIOR
FEATURES
GREAT LOOKS AND STRENGTH IN PERFECT HARMONY
Handsome lines characterize an SUV designed to suit life in the desert yet feel at home in the elegant surrounds of the city. Prado's purposeful exterior exudes strength that's more than skin deep.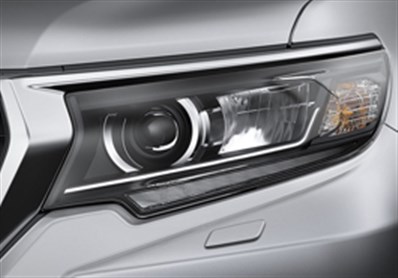 Powerful headlight technology illuminates the road ahead and front fog lights help when the weather takes a turn for the worst. Modern integrated LED daytime running lights (DRLs) make Prado visible to other road users and give a distinctive look.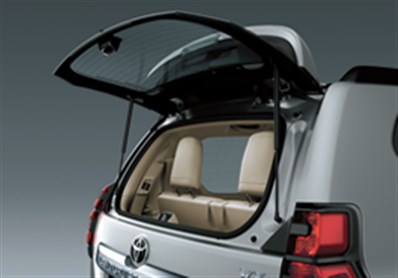 The glass hatch gives owners access to the boot for smaller items without having to use the unwieldy large door.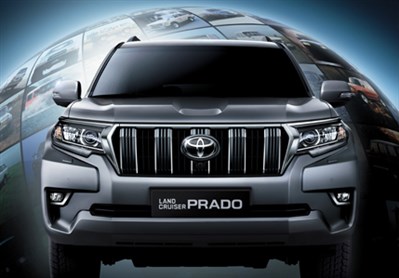 Prado always makes a bold entrance. Prado's signature vertical bar chrome front grille makes it instantly recognizable.

INTERIOR
FEATURES
Swipe left and right to view more*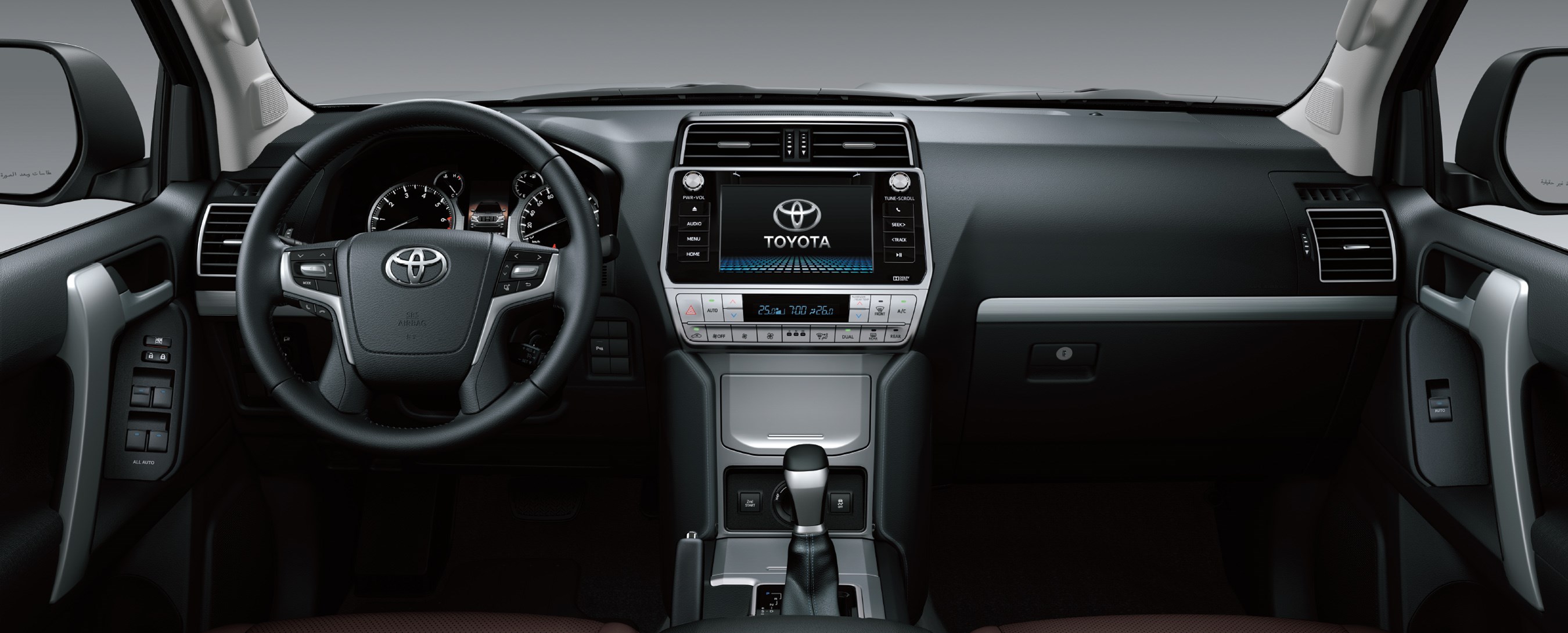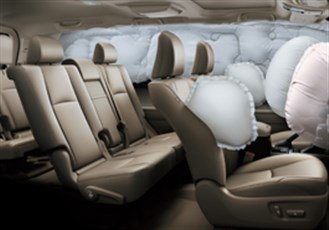 SRS airbags contribute to driver and passenger safety by helping to minimize impact force in certain types of collisions. Ample features include SRS curtain-shield airbags that cover all three rows of seats in a severe side collision.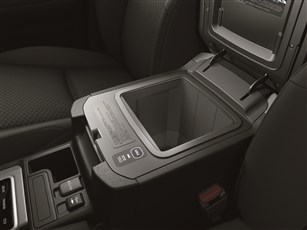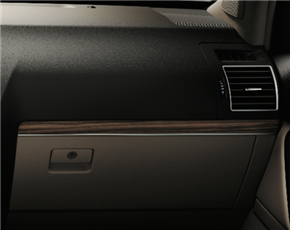 Wood Grain Leather Touches on Glovebox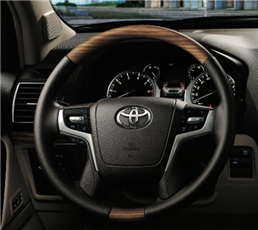 Wood Grain Leather Touches on Steering Wheel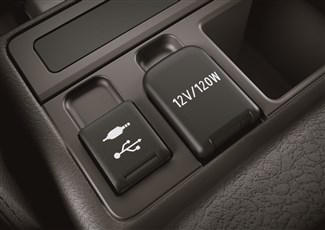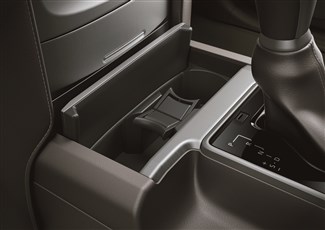 Center Console Cupholders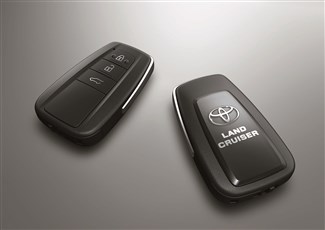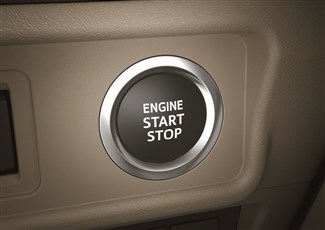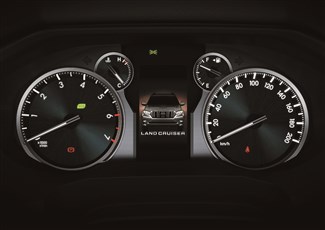 4.2-inch Color TFT Multi-Information Display Connected to Steering Wheel Control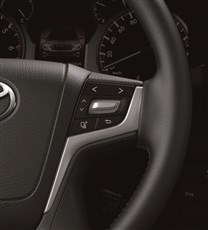 The wheel mounted controls allow the driver to control the multi-information display, which presents a wide range of information in easy-to-recognize form for enhanced driving convenience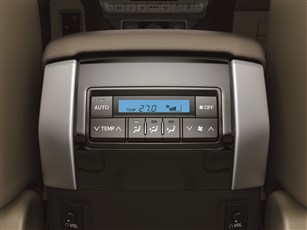 Triple Zone Auto A/C with Climate Control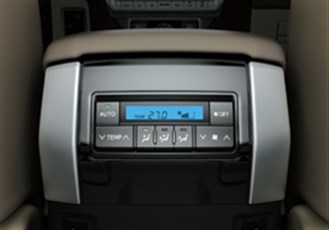 Fully automatic air conditioning offers 3-zone independent temperature adjustment. The independent rear seat temperature controls help assure more comfort for everyone onboard.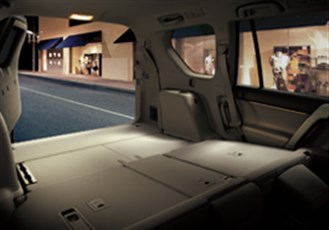 Abundant storage capacity enhances convenience with folded third and second row seats.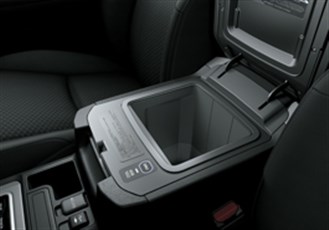 Store your favorite refreshments during any road trip using the Prado's fitted Cool Box within the center console. While the engine is running, the cool box is cooled by the air conditioning. The beverages are stored at the optimal temperature.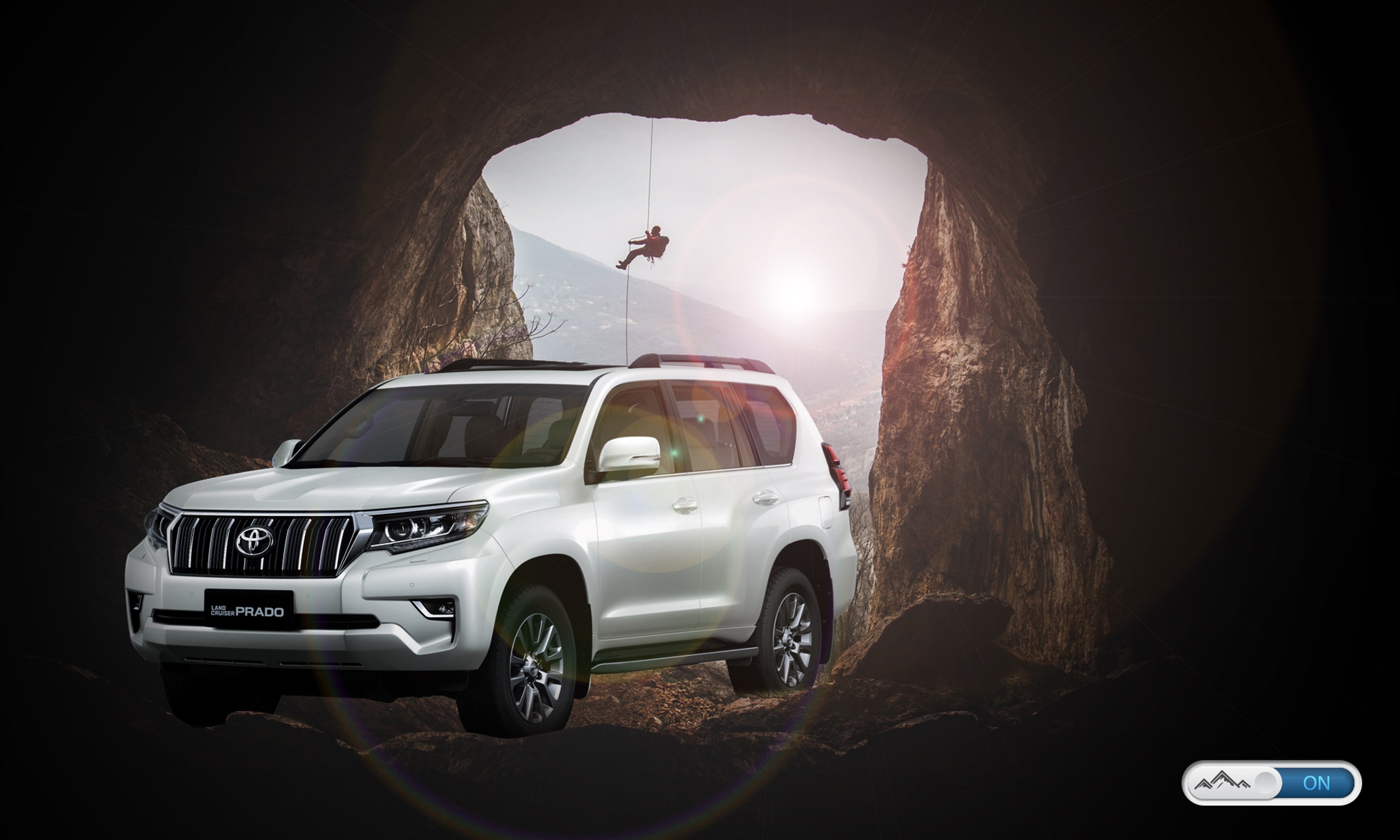 TOYOTA SAFETY
The Prado is as reliable as it looks with a body structure that is crafted with high-tensile steel encompassing the latest safety technologies and innovative systems. These offer exceptional levels of safety and security complemented by the four-wheel SUV's new advanced safety technology package.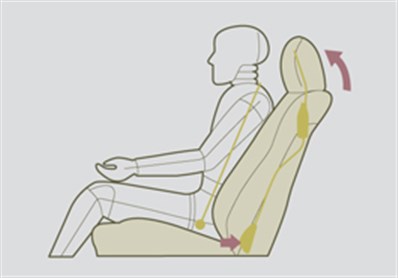 In the event of a rear-end collision, front seats with active headrests help reduce neck impact by moving the headrest diagonally upwards to simultaneously cushion the head and back.
The impact-absorbing structure of the hood, fenders, and other components helps enhance safety performance in accidents involving pedestrians.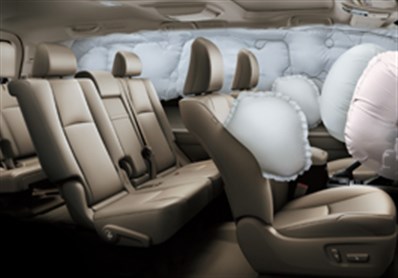 SRS airbags contribute to driver and passenger safety by helping to minimize impact force in certain types of collisions. Ample features include SRS curtain-shield airbags that cover all three rows of seats in a severe side collision. An SRS knee airbag is also available for the driver, which assists the seatbelt function and bolsters protection by restraining the lower body (mainly the knees).
Always
3
YEARS, or 100,000 kilometer warranty, whichever comes first. Conditions and terms apply.
Disclaimer
BUMC s.a.l. reserves the right to modify the information contained in this site at any time without notice. While BUMC s.a.l. makes all reasonable efforts to ensure that all material on this site is correct, accuracy cannot be guaranteed and does not assume any responsibility for the accuracy, completeness or authenticity of any information contained in this site.
• This site and all information and materials contained herein are provided to you as is without warranty of any kind.
• BUMC s.a.l. is not responsible for information contained on Toyota models on independent websites and cannot confirm its validity.
• All information, imagery and videos are copyrighted and cannot be replicated or used.
• Photos are for illustration purposes only.

* The SRS airbags are supplemental devices to be used with the seatbelts. The driver and all passengers in the vehicle must wear their seatbelts properly at all times. Never install a rear-facing CRS (Child Restraint System) on the front passenger's seat. For a forward-facing CRS, it is recommended you use it in the rear seats. Please do not use accessories for the seats which cover the parts where the SRS side airbags should inflate. Such accessories may prevent the SRS side airbags from activating correctly, causing serious injury. The photo shows all the SRS airbags activated for display purposes only (the SRS side and curtain shield airbags only inflate on the side of the collision in an actual accident). For details on these and other important safety features, be sure to read the Owner's Manual carefully.
** People and obstacles that show in the monitor differ from the actual position and distance. Do not rely completely on the monitor and make sure you check the safety around the vehicle with your own eyes when driving.

Specifications
Major Dimensions & Vehicle Weights (unit)
Overall
Length (mm)
Width (mm)
Height (mm)
Wheelbase (mm)
Curb Weight
Cargo Space
Cargo Space Height
Cargo Space Width
Cargo Space Length
Cargo Space Capacity
Ground To Floor Height
Payload
Payload
Engine
Engine
No. of Cyls.
Fuel Type
Motor Generator
Max Torque
Max Torque
Max Output
Max Output
Tires & Wheels
Sizes
Tires
Seating Capacity
Seats
Seats
Hybrid Battery
Hybrid
Type
Interior
More Options
Steering Wheel Audio Controls
Remote Key
Leather Finishes
Parking Sensors
Push Start Button with Keyless Entry
Cool Box
Rearview Camera
Exterior
More Options
Chrome Finishes
Fog Lights
Alloy Wheels
Sunroof
Number of Doors
Spoiler
Running Board
Sporty / Adventure Accents