Sleek & Powerful
The all new Toyota Fortuner, a 7-seater SUV with full-fledged 4WD capability builds on its heritage of being a durable sport utility vehicle (SUV) with impressive off-road capabilities.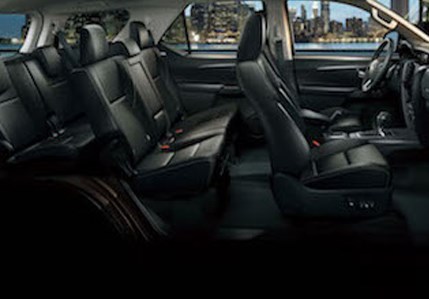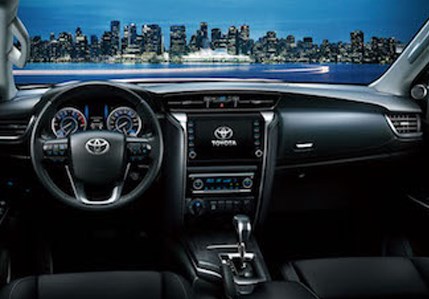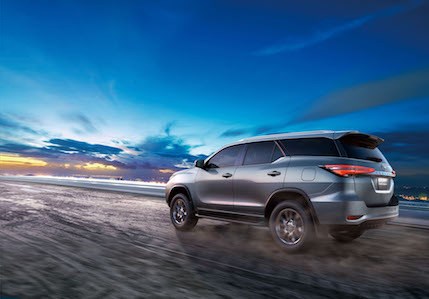 ENGINE & MECHANICAL FEATURES
Exhilarating Power Deepens Driving Pleasure Powerful acceleration and outstanding handling that actively feed your desire for driving excitement on the road are balanced by excellent fuel efficiency.

Package: 4-Cylinder Engine
- 2.7 L, 4-Cylinders, 16 VALVES, Dual VVT-I
- 164 HP @ 5,200 RPM
- 241 NM Torque @ 3,800 RPM
- 6 Speed Tiptronic Gearbox with Sport & Eco Mode
- Electric Power Steering
- 2WD 4HI 4LO Electric Gear Transfer

Package: 6-Cylinder Engine
- 4.0 L, 6-Cylinders, 24 VALVES, Dual VVT-I
- 278 HP @ 5,200 RPM
- 376 NM Torque @ 3,700 RPM
- 6 Speed Paddle Shifters and Tiptronic Gearbox with Sport & Eco Mode
- Electric Power Steering
- 2WD 4HI 4LO Electric Gear Transfer

TECHNOLOGY
Only a true SUV can inspire off-road adventures
Beneath the sophistication, the robust frame and advanced off-road driving technologies form the core of the outstanding rough terrain capabilities.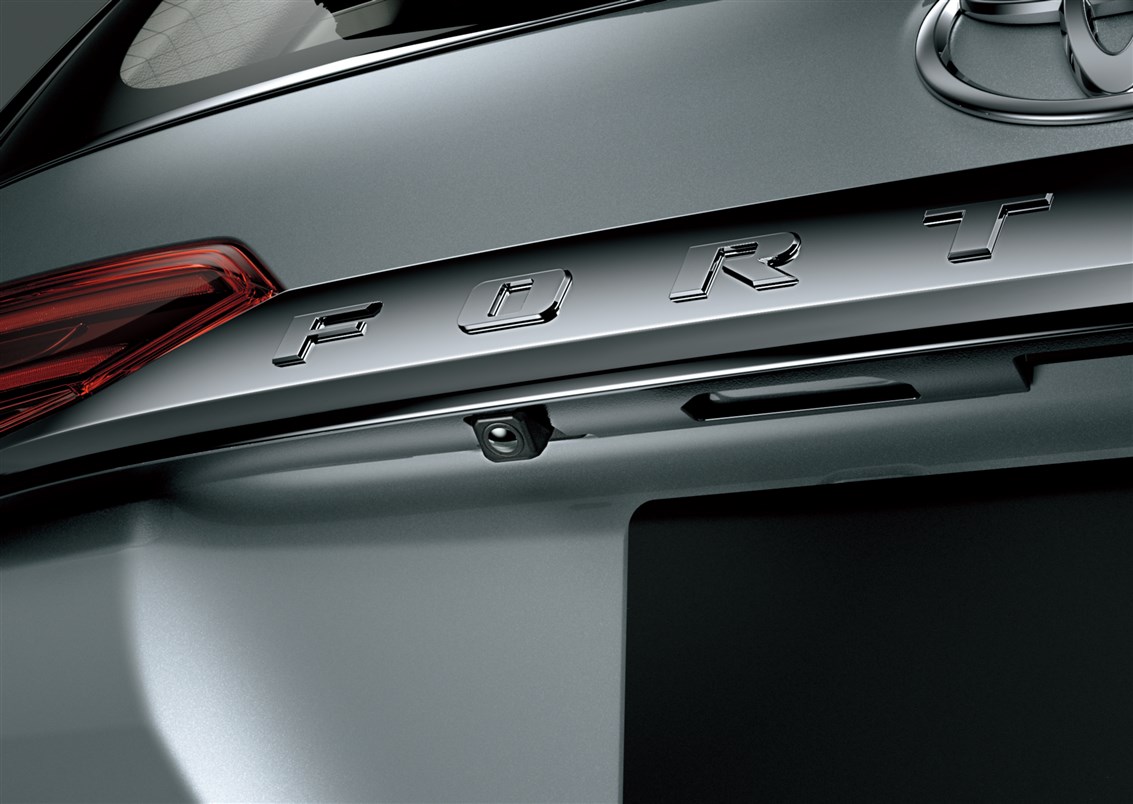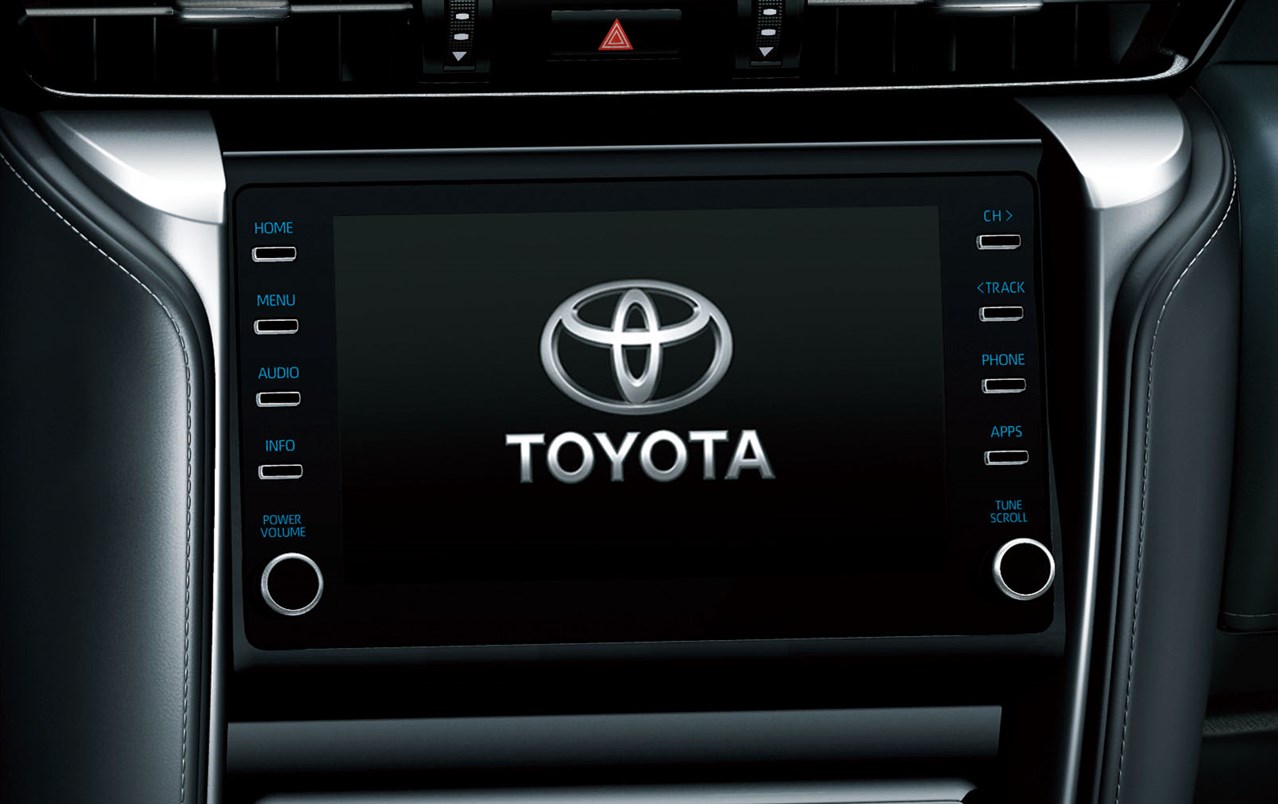 EXTERIOR
FEATURES
Stylish Design Paired with Advanced Exterior Detailing
The new Fortuner's exterior design has been notably enhanced, with its large front grille and silver bumper strips creating a stronger sense of rigidity and dependability.
The high rigidity structure to exceptional toughness in harsh environments as well as an excellent handling performance quiet smooth ride and reassuring feeling of safety.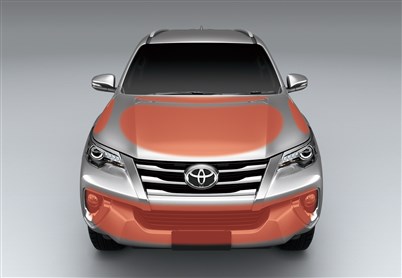 Impact-absorbing body structures incorporated in the front bumper, hood, cowl and front fender brackets.
The 6-cylinder package comes with an additional Auto Light Sensor, which provides excellent distribution of light, contributing to good visibility at night, and LED Daytime Running Lights.

INTERIOR
FEATURES
Swipe left and right to view more*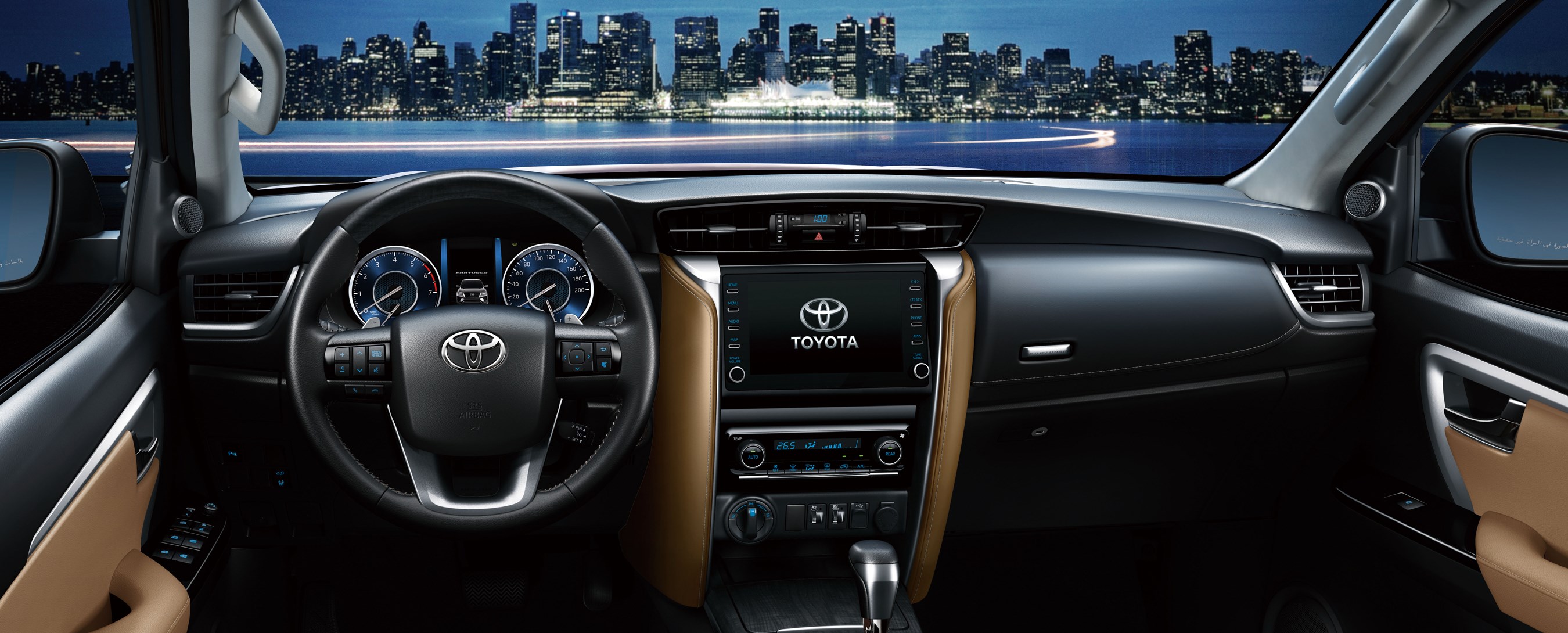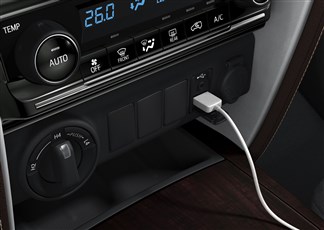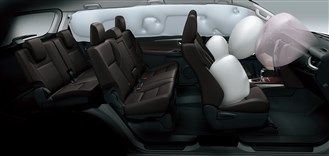 Air Bags; The Fortuner is equipped with SRS driver airbag, SRS front passenger airbag and SRS knee airbag (Driver's seat).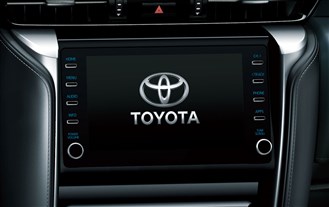 Audio System: The speakers are strategically positioned to provide excellent sound in all seats.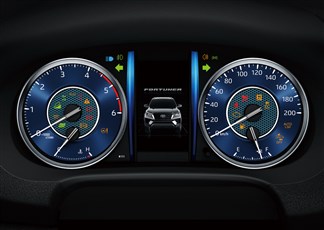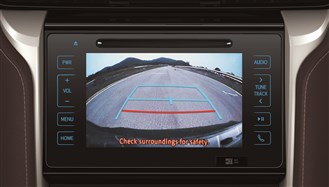 Rearview Camera (only available in 6-Cylinder Package)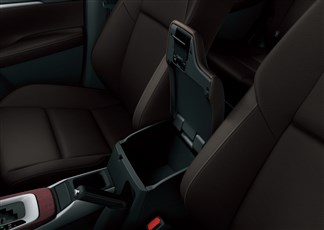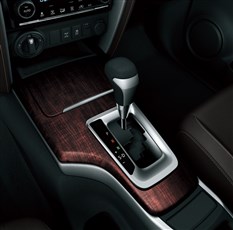 Six Super ECT (Electronic Controlled Transmission)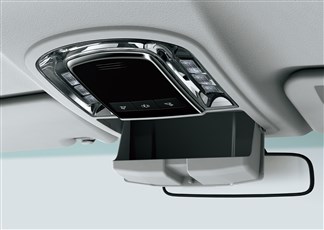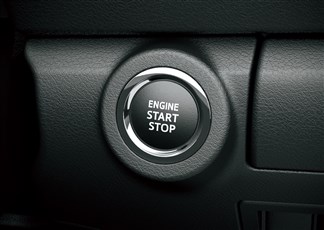 Smart Entry & Engine Push Start Button (only available in 6-cylinders package)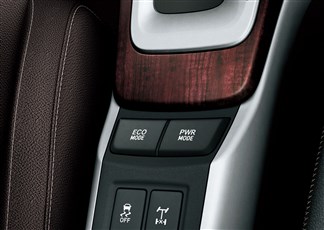 Auto Climate Control A/C with Rear Controls and Vents (only available in 6-cylinders package)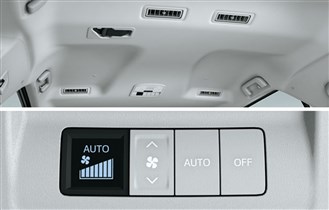 Rear Auto Air Conditioner (only available in 6-Cylinder Package)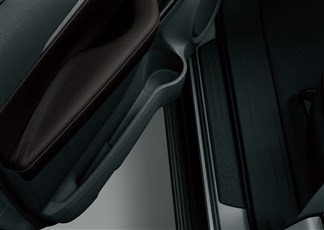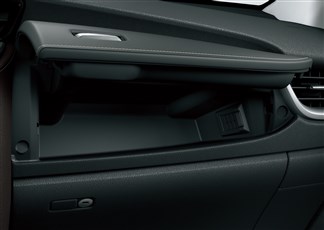 Glovebox (Cool Box also available only in 6-cylinders package)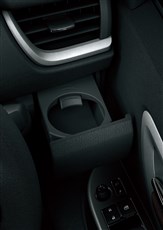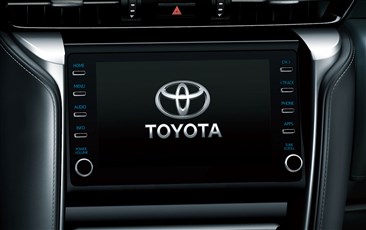 Audio System
The speakers are strategically positioned to provide excellent sound in all seats. The large touch-screen display enables easy touch operation of switches and controls.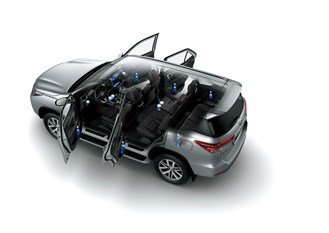 Complement Your Active Lifestyle
Versatile seating arrangements and an abundance of storage spaces quickly and easily accommodate the changing demands of a mobile lifestyle.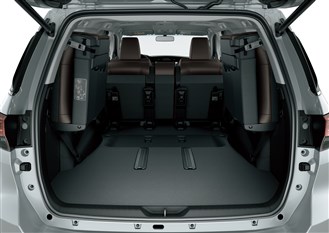 Luggage Space Storage
Located in the side of the luggage space, this handy storage provides easy access to tools and gear.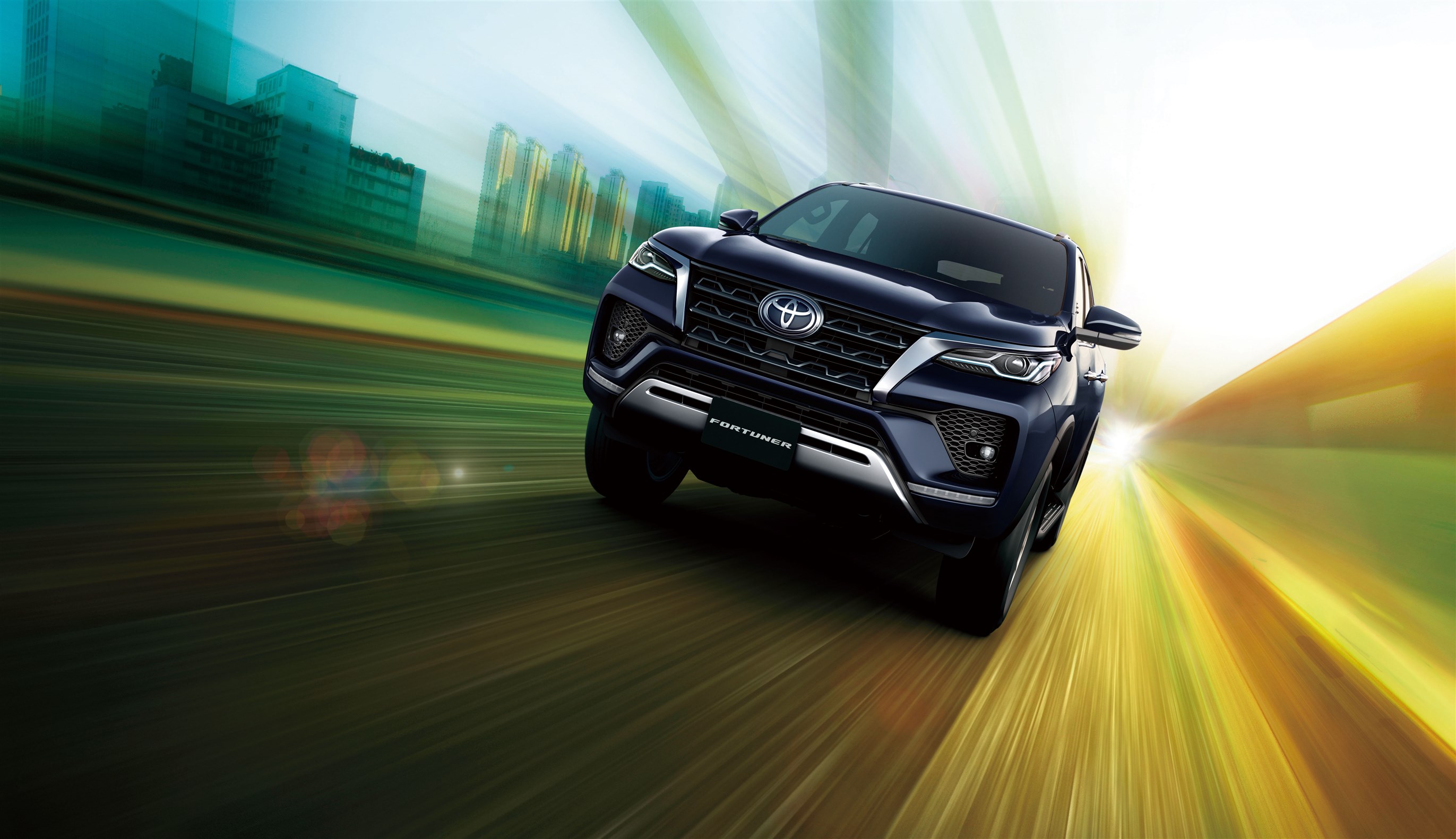 TOYOTA SAFETY
Peace of Mind: Reassuring strength and reliability
Combining the strength and reliability of a true SUV with advanced active and passive safety measures contributes to peace of mind, on-road and off-road.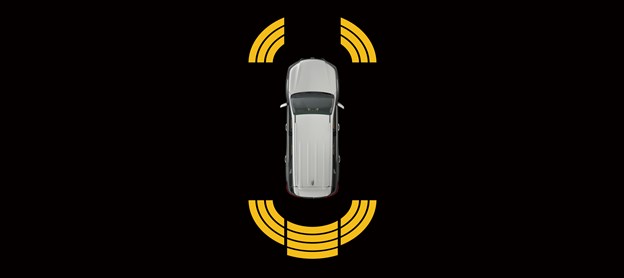 Clearance Sonar
A total of 6 sonars detects stationary object near the front and rear bumpers and alert the driver to take care.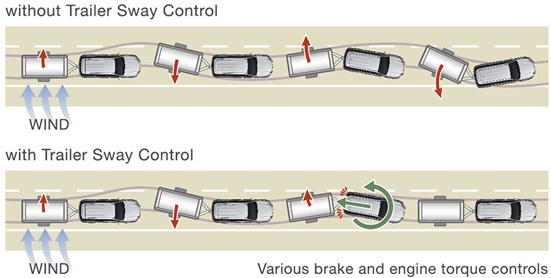 Trailer Sway Control
When towing a trailer, the system detects trailer sway and helps to suppress it by controlling braking and engine output.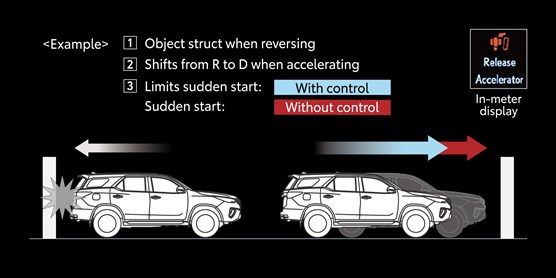 Drive-Start Control
If an abnormal shift (R->D, D->R, N->R, P->D, P->R) is detected while accelerating, a warning light is displayed in the meter display and engine output is reduced to limit the acceleration, helping to avoid a collision.
Warranty
Always
3
or 100,000 kilometer warranty, whichever comes first. Conditions and terms apply.
Disclaimer
BUMC s.a.l. reserves the right to modify the information contained in this site at any time without notice. While BUMC s.a.l. makes all reasonable efforts to ensure that all material on this site is correct, accuracy cannot be guaranteed and does not assume any responsibility for the accuracy, completeness or authenticity of any information contained in this site.
• This site and all information and materials contained herein are provided to you as is without warranty of any kind.
• BUMC s.a.l. is not responsible for information contained on Toyota models on independent websites and cannot confirm its validity.
• All information, imagery and videos are copyrighted and cannot be replicated or used.
• Photos are for illustration purposes only.

* The SRS airbags are supplemental devices to be used with the seatbelts. The driver and all passengers in the vehicle must wear their seatbelts properly at all times. Never install a rear-facing CRS (Child Restraint System) on the front passenger's seat. For a forward-facing CRS, it is recommended you use it in the rear seats. Please do not use accessories for the seats which cover the parts where the SRS side airbags should inflate. Such accessories may prevent the SRS side airbags from activating correctly, causing serious injury. The photo shows all the SRS airbags activated for display purposes only (the SRS side and curtain shield airbags only inflate on the side of the collision in an actual accident). For details on these and other important safety features, be sure to read the Owner's Manual carefully.
** People and obstacles that show in the monitor differ from the actual position and distance. Do not rely completely on the monitor and make sure you check the safety around the vehicle with your own eyes when driving.
Packages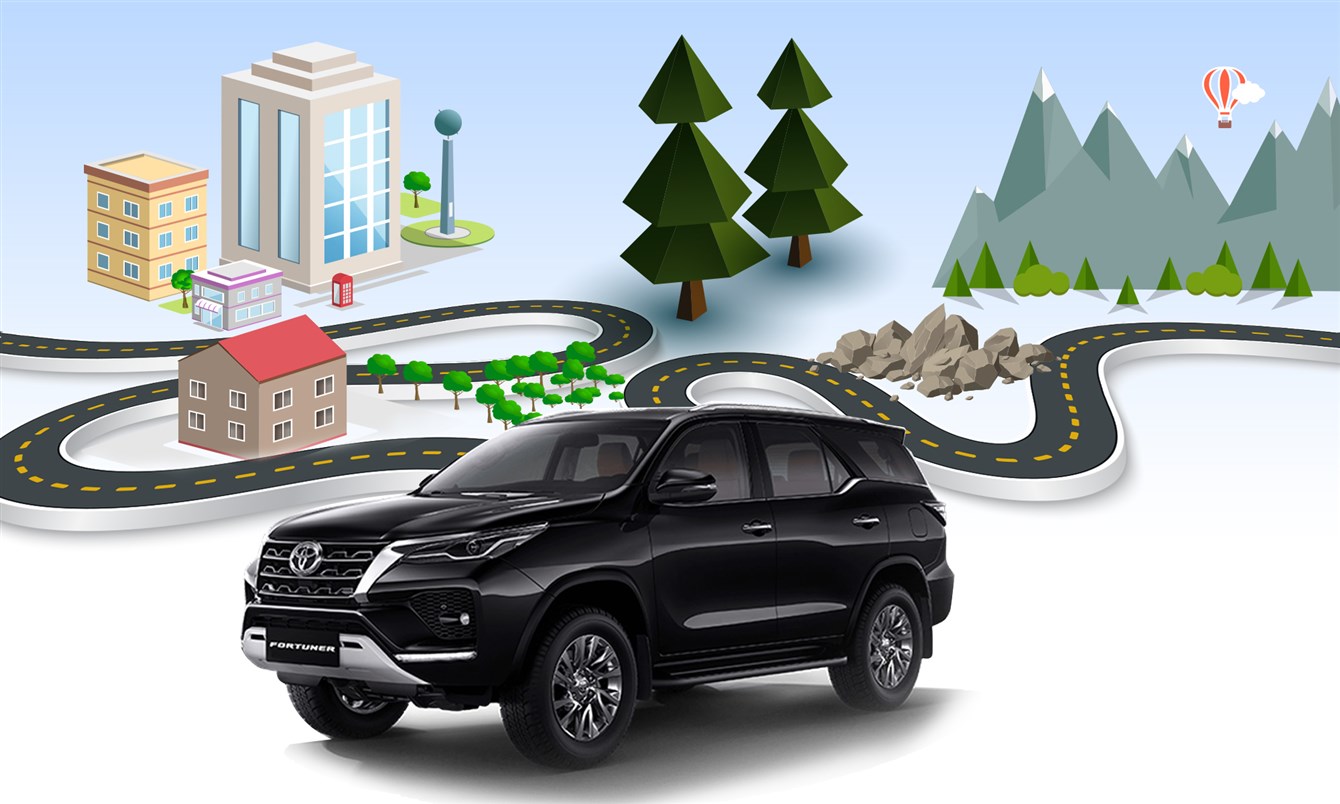 6-Cylinder Package
The Fortuner never experienced before with added luxury touches like the leather seat material with wood and chrome touches, easily accessible cool box, automatic climate control air conditioning with rear controls and vents, rear camera, among others.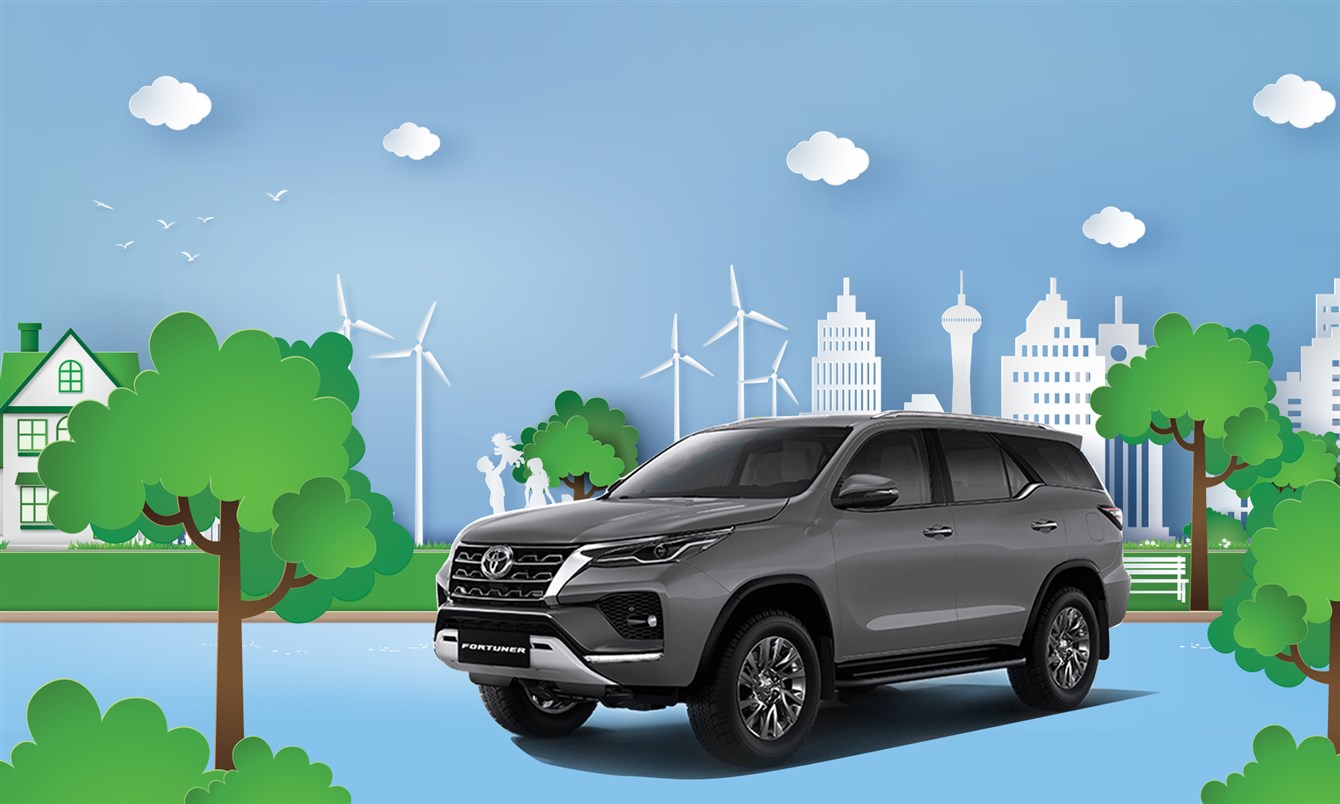 4-Cylinder Package
Tough meets gorgeous. The Toyota Fortuner boasts a bold design with embodied functional beauty, advanced technologies, intuitive operation and refined features to provide a truly engaging driving experience. The SUV is also backed with Toyota's renowned safety.
Specifications
Major Dimensions & Vehicle Weights (unit)
Overall
Length (mm)
Width (mm)
Height (mm)
Wheelbase (mm)
Cargo Space
Kerb Weight (KG)
Gross Vehicle Weight (KG)
Deck Height (mm)
Deck Width (mm)
Deck Length (mm)
Payload
Payload
Engine
Engine
No. of Cyls.
Fuel Type
Drive System
Power Steering
Engine Brake
Motor Generator
Max Torque
Max Torque
Max Output
Max Output
Tires & Wheels
Sizes
Tires
Seating Capacity
Seats
Seats
Hybrid Battery
Hybrid
Type
Interior
More Options
Steering Wheel Audio Controls
Remote Key
Leather Finishes
Parking Sensors
Push Start Button with Keyless Entry
Cool Box
Rearview Camera
Panoramic View Monitor Camera
Power Windows
Central Lock
Radio, AUX, USB, Bluetooth
Radio, AUX, USB, Bluetooth
Driver & Passenger Sun Visor
LCD Multi-Information Display
Ash Tray
A/C
Tilt & Telescopic Urethane Steering Wheel
Exterior
More Options
Chrome Finishes
Fog Lights
Alloy Wheels
Sunroof
Number of Doors
Spoiler
Running Board
Sporty / Adventure Accents
Panoramic Sunroof
Reverse Safety Buzzer
Intermittent Windshield Wiper
Heavy Duty Chassis
Halogen Headlamps
Fuel Cap with Key
Tiltable Cabin