Stand Out for all the Right Reasons
Toyota C-HR's dynamic design and available color options stand out for all the right reasons—without even trying. Once you step inside – the C-HR surrounds you with style and unique character with a driver and passenger intuitive space that's focused on your comfort.
Engine & Mechanical Features
Powering the C-HR is a lively 1.2-liter Direct Injection Turbo powering 116HP in exceptional style. Designed for impressive performance and fuel economy, the C-HR helps the party going with its 7-speed CVT transmission with three driving modes: normal – eco – sport. The compact crossover is a powerful all-wheel drive and responds quickly to the road ahead.

- 1.2 Liter Direct Injection Turbo with 116 HP and 185 NM Torque
- 7 speed CVT Transmission with three driving modes (Normal – Eco – Sport)
- All Wheel Drive

Technology
The Toyota C-HR is built on a Toyota New Global Architecture (TNGA) platform that offers drivers an exciting driving dynamics due to its exceptional rigidity, lower center of gravity and enhanced suspension. The platform also allowed designers to mold the C-HR into a dynamic crossover, without losing headroom or bonnet heights. Its avant-garde personality is evident in every angle of the C-HR.
The Toyota C-HR high definition illumination is characterized within its Bi-Led Headlamps with Sequential Turn Signal (only for full package) and Auto Light Sensor, Height Adjustable front lights with LED Daytime Running Lights. The headlights reach deep into the C-HR's shoulders.
The new TNGA platform also promises improved handling, thanks to a lower-mounted powertrain.
Step inside and enjoy your favorite melodies, podcasts or find out what's happening in the news with the Toyota C-HR's CD, radio, MP3, AUX, USB with Bluetooth connectivity and six speakers with steering command. Best of all, adjust your volume or answer that important call with the steering mounted controls. No matter where the road takes you stay connected and entertained.
Interior Features
Swipe left and right to view more*

INTERIOR
FEATURES
Swipe left and right to view more*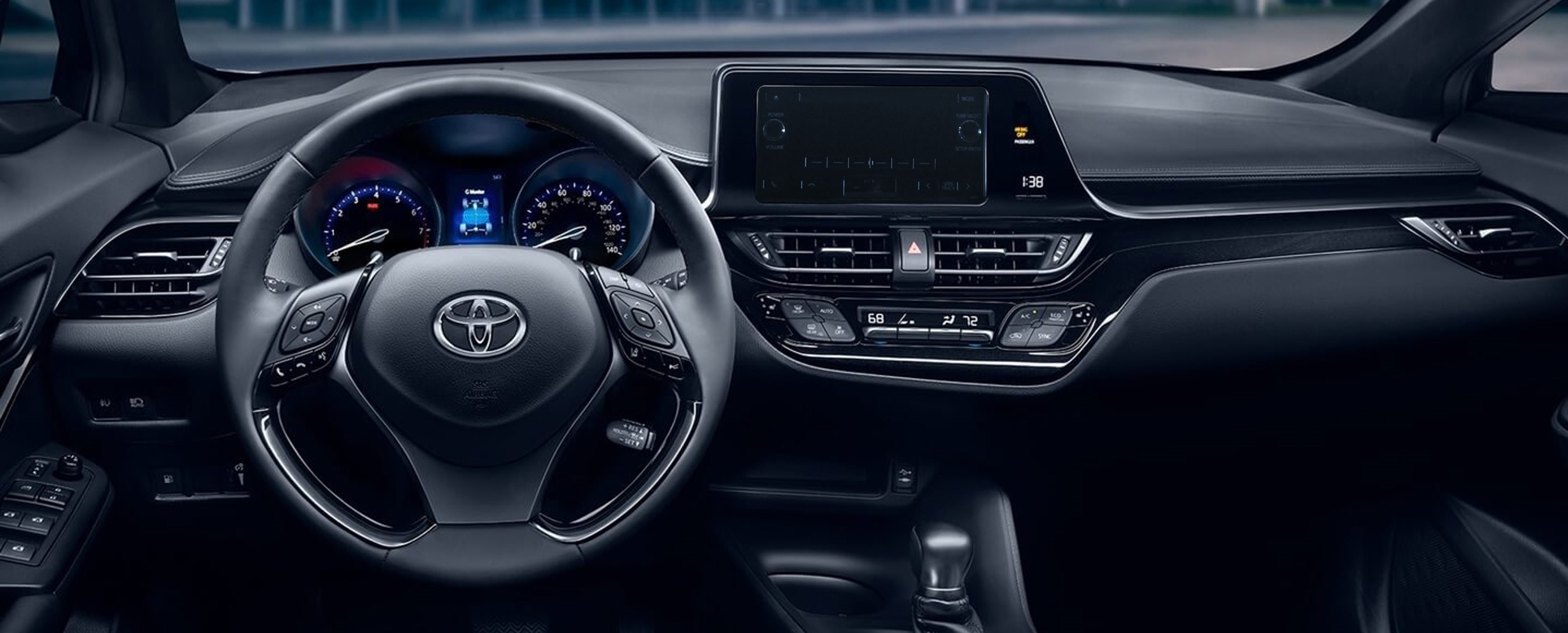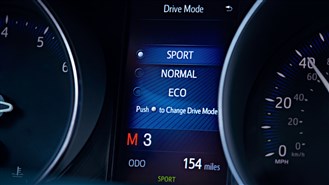 The three way driving modes (Normal – Eco – Sport).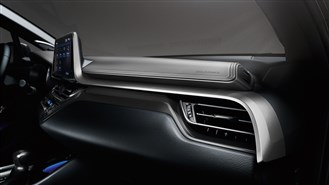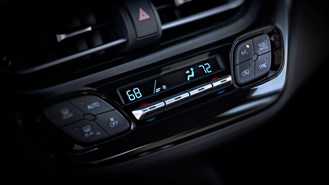 Dual-Zone Climate Control A/C with Nano-E Technology (The Nano-E is available for full options package).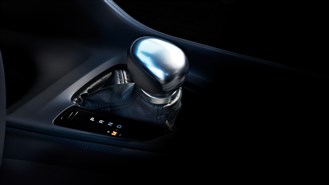 7-speed CVT Transmission with three driving modes (Normal – Eco – Sport).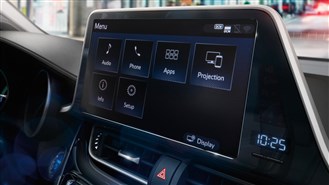 Entertainment System: Single CS, Radio, MP3, AUX, USB with Bluetooth Connectivity + 6 Speakers with Steering Command.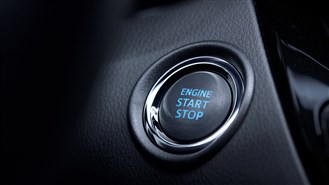 Smart Entry with Engine Push Start Button (Available for full options package).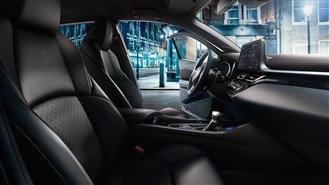 With a sweeping driver-oriented dashboard featuring soft signature leather trims and ample luggage space, C-HR guarantees perfect command all-round visibility of the road, as well as spacious interiors of unrivaled quality empowering you to be in full control.
"Hidden" rear door handles and body panels that feature complex curves and creases.
The differentiation color painted roof and side mirrors from the rest of the body give the C-HR a unique two-tone look (for full options package only).
Color-keyed rear spoiler and unique cantilevered design enhance the C-HR's coupe appearance.
Warranty
3 Years

or 100,000 kilometer warranty, whichever comes first. Conditions and terms apply.
BUMC s.a.l. reserves the right to modify the information contained in this site at any time without notice. While BUMC s.a.l. makes all reasonable efforts to ensure that all material on this site is correct, accuracy cannot be guaranteed and does not assume any responsibility for the accuracy, completeness or authenticity of any information contained in this site.
•
This site and all information and materials contained herein are provided to you as is without warranty of any kind.
•
BUMC s.a.l. is not responsible for information contained on Toyota models on independent websites and cannot confirm its validity.
•
All information, imagery and videos are copyrighted and cannot be replicated or used.
•
Photos are for illustration purposes only.
* The SRS airbags are supplemental devices to be used with the seatbelts. The driver and all passengers in the vehicle must wear their seatbelts properly at all times. Never install a rear-facing CRS (Child Restraint System) on the front passenger's seat. For a forward-facing CRS, it is recommended you use it in the rear seats. Please do not use accessories for the seats which cover the parts where the SRS side airbags should inflate. Such accessories may prevent the SRS side airbags from activating correctly, causing serious injury. The photo shows all the SRS airbags activated for display purposes only (the SRS side and curtain shield airbags only inflate on the side of the collision in an actual accident). For details on these and other important safety features, be sure to read the Owner's Manual carefully.
** People and obstacles that show in the monitor differ from the actual position and distance. Do not rely completely on the monitor and make sure you check the safety around the vehicle with your own eyes when driving.
Standard Options
Crafted like a precision-cut diamond and born from the mind of a race car driver—the Toyota C-HR is the perfect compact crossover for all your city adventures.

Full Package
The perfect city compact crossover is enhanced with luxury options, including two-tone expressive body color, Bi-Led Headlamps with Sequential Turn Signal, Leather seats, dual color dashboard and door trim, cruise control among others.