Your Wish Finally Came True
The Toyota Wigo finally hits Lebanon's streets with a statement. With a sporty look accented through every angle, from its front fascia to its rear spoiler – the Toyota Wigo is ready for fun and adventure.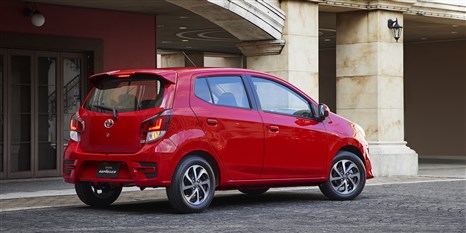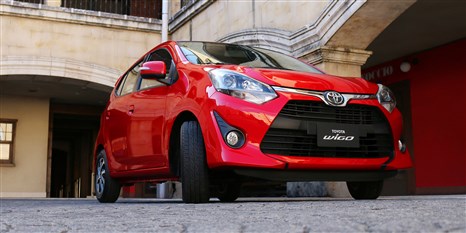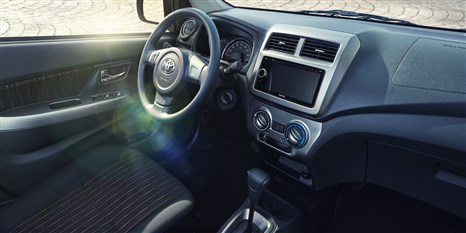 ENGINE & MECHANICAL FEATURES
The Toyota Wigo is equipped with a 1.2-liter gasoline engine that delivers 87 horsepower and 108 NM of torque. It's available in either a 5-speed manual or 4-speed automatic transmissions.

- 1.2L 4 Cylinder / VVT-i Engine
- 87 HP @ 6,000 RPM
- 108 NM Torque @ 4,200 RMP
- 5-speed manual or 4-speed automatic transmissions
- Electric Power Steering

TECHNOLOGY
The Toyota Wigo may be compact, however, it is stilled filled with technological features for entertainment, superior driving pleasure and above all, safety. Safety is always a priority with Toyota and the smallest model of the lineup is no exception.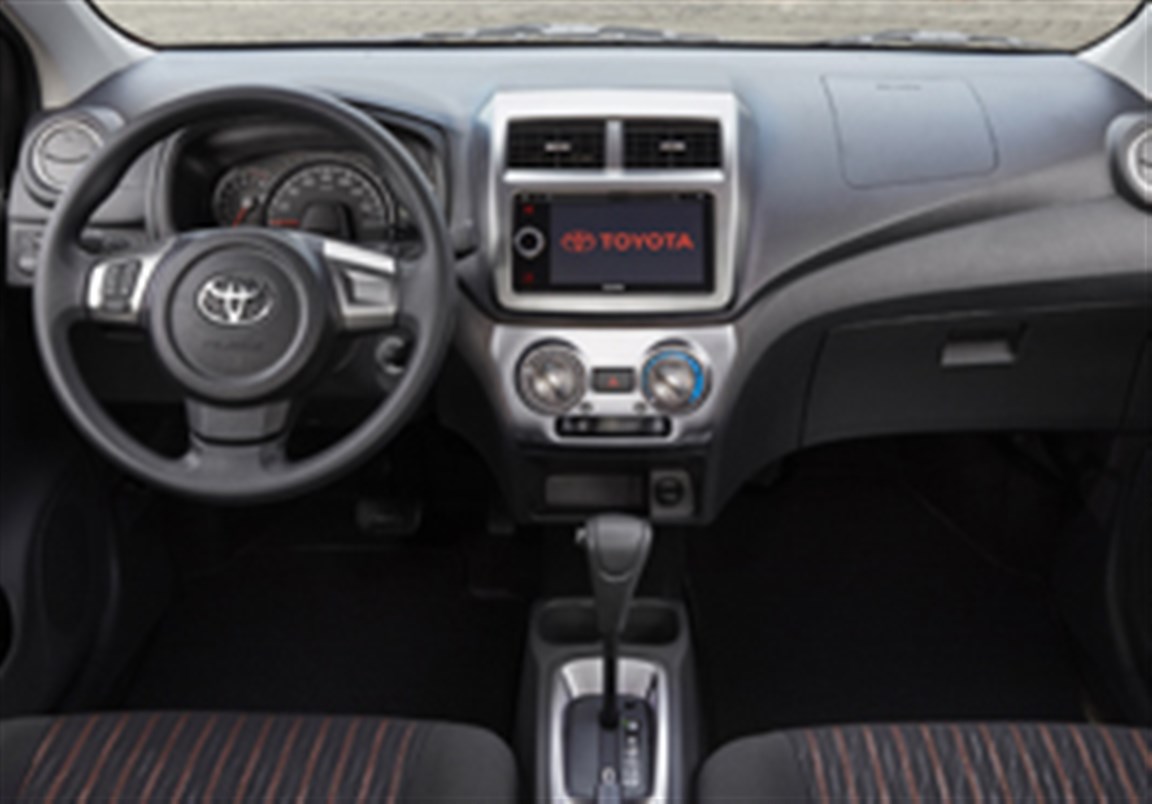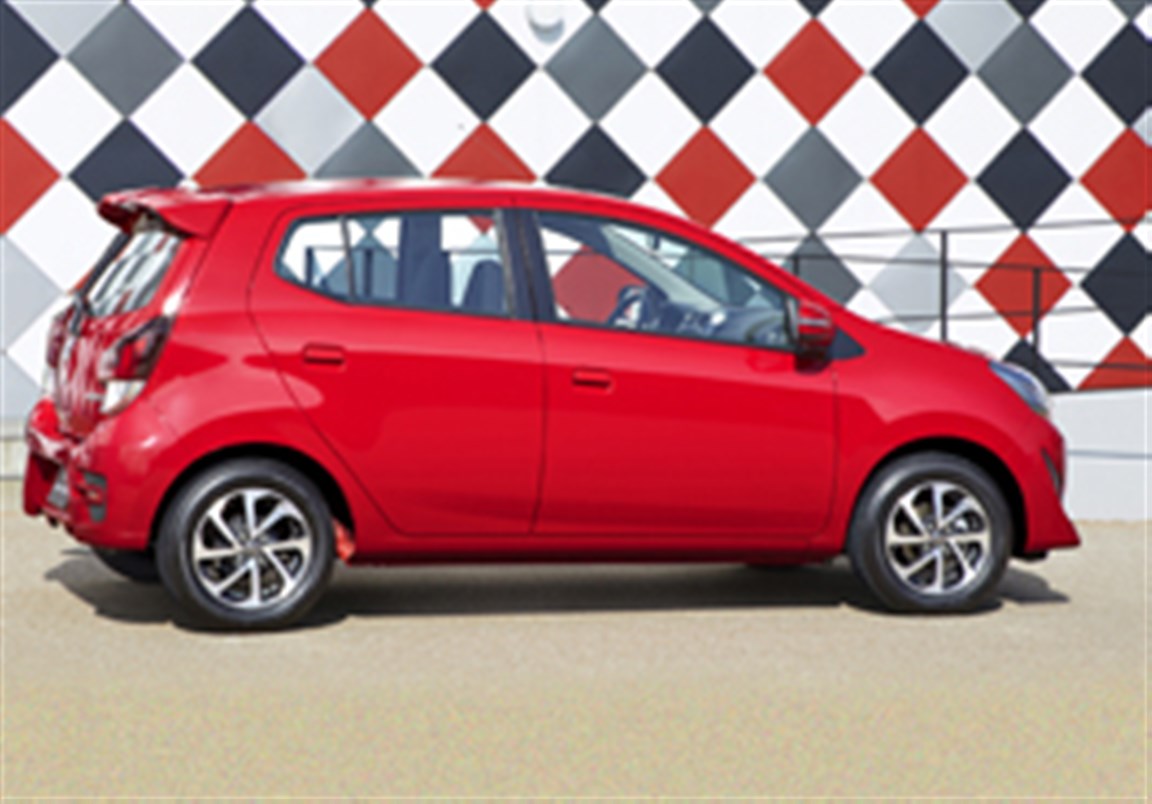 EXTERIOR
FEATURES
Make Sharp Turns
With a sporty front fascia, rear spoiler, and third brake light, the Toyota Wigo exudes fun and excitement at every glance. From the front to back projector headlamps and LED taillights garner attention everywhere.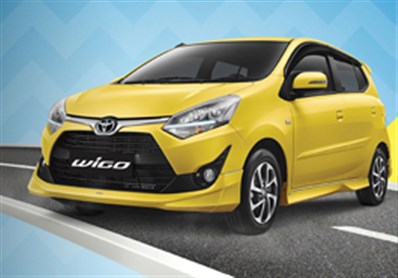 Front Fog Lights Accentuate the Front Spoiler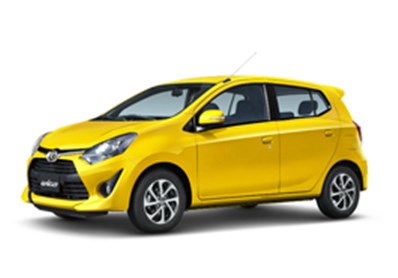 Body-Colored Door Handles and 14'' Alloy Wheels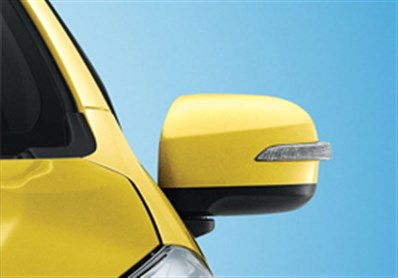 Electric Door Mirrors with Turn Signal Indicators

INTERIOR
FEATURES
Swipe left and right to view more*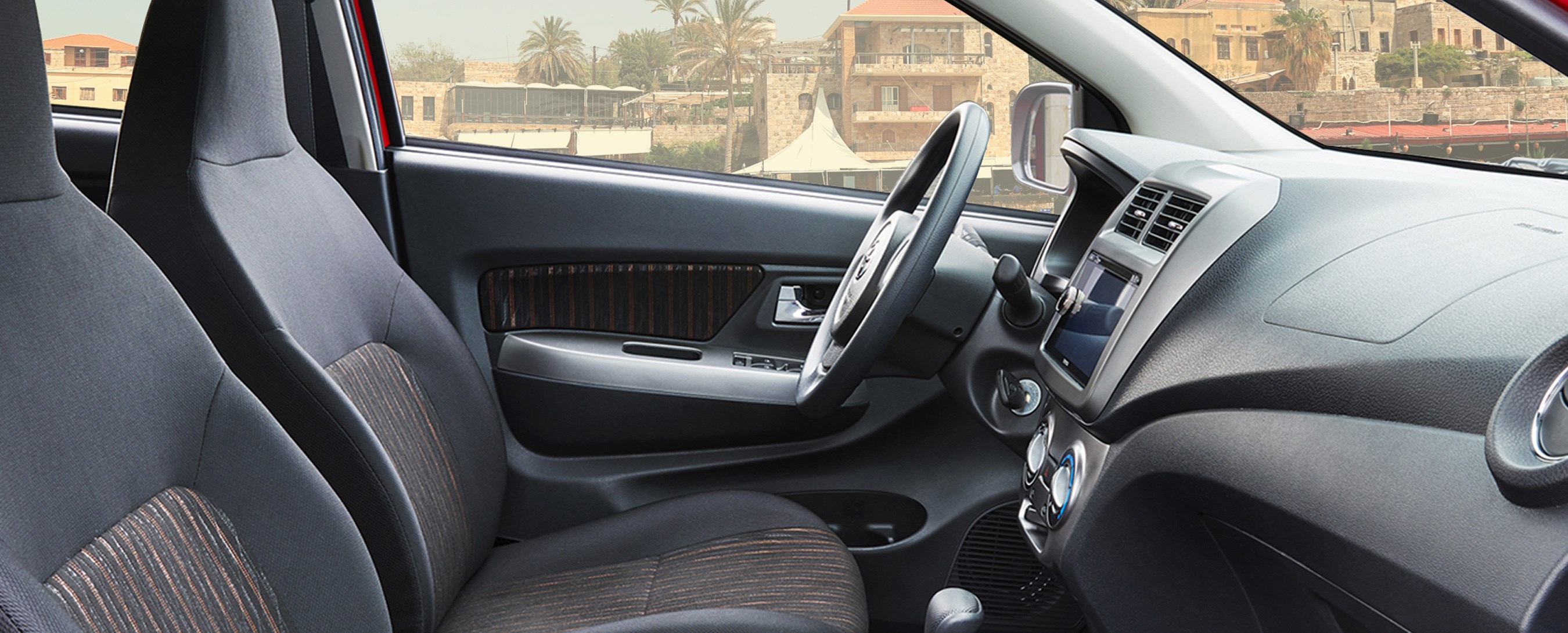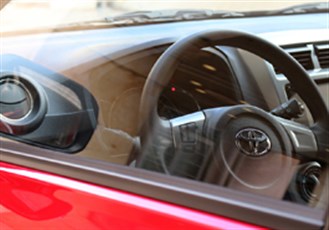 Fully Loaded with Urethan Steering Wheel With Audio Controls, Power Door Lock, 4-Power Windows, Display Audio System with Radio, CD, Bluetooth, AUX, USB and 4-speakers.
Ultimate Comfort: A/C, Driver and Passenger Seat Back Pocket, Driver and Passenger Sun Visors, Two front cup holders and one Rear Cup Holder.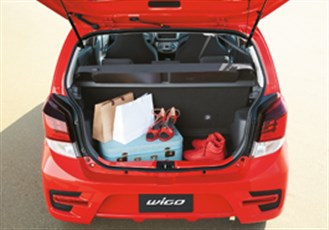 The Wigo's carrying capacity is above average and the loading bay is quite long and deep with the rear seats folded down. The cargo space is perfect for a weekend away or adventurous escape.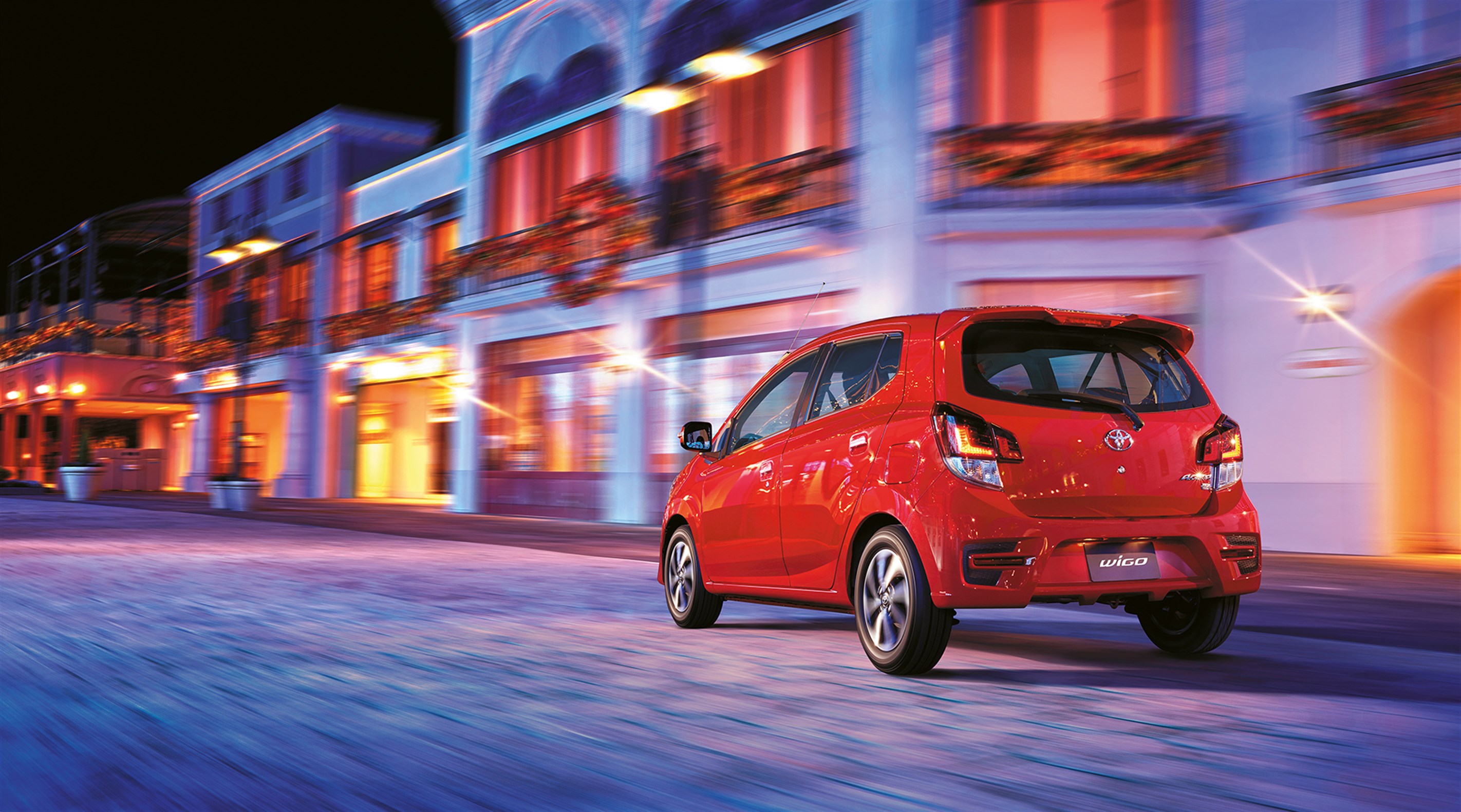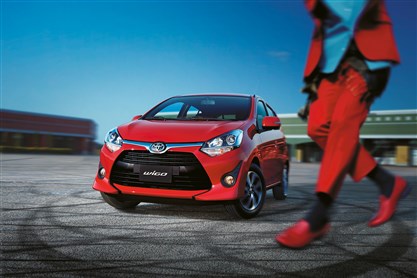 Rear Parking Sensors
The sensors are designed to alert the driver of obstacles. The rear sensors are activated when the reverse gear is selected, and automatically deactivated when another gear is selected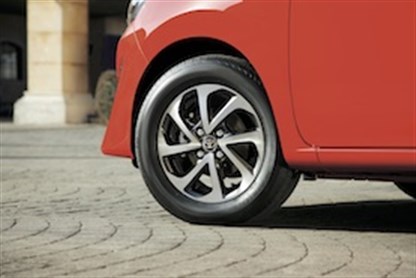 Anti-Lock Braking System (ABS)
Controls vehicle behavior by preventing wheels from locking up. Also equipped with EBD (Electronic Brake-force Distribution).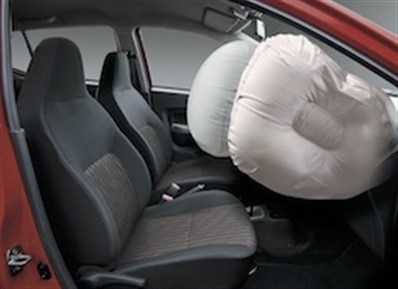 SRS Driver & Passenger Airbag
Standard on all variants – the driver and passenger airbags provide peace of mind on the road.
Warranty
Always
3
years or 100,000km, whichever occurs first. Terms and Conditions apply.
Disclaimer
BUMC s.a.l. reserves the right to modify the information contained in this site at any time without notice. While BUMC s.a.l. makes all reasonable efforts to ensure that all material on this site is correct, accuracy cannot be guaranteed and does not assume any responsibility for the accuracy, completeness or authenticity of any information contained in this site.
• This site and all information and materials contained herein are provided to you as is without warranty of any kind.
• BUMC s.a.l. is not responsible for information contained on Toyota models on independent websites and cannot confirm its validity.
• All information, imagery and videos are copyrighted and cannot be replicated or used.
• Photos are for illustration purposes only.

* The SRS airbags are supplemental devices to be used with the seatbelts. The driver and all passengers in the vehicle must wear their seatbelts properly at all times. Never install a rear-facing CRS (Child Restraint System) on the front passenger's seat. For a forward-facing CRS, it is recommended you use it in the rear seats. Please do not use accessories for the seats which cover the parts where the SRS side airbags should inflate. Such accessories may prevent the SRS side airbags from activating correctly, causing serious injury. The photo shows all the SRS airbags activated for display purposes only (the SRS side and curtain shield airbags only inflate on the side of the collision in an actual accident). For details on these and other important safety features, be sure to read the Owner's Manual carefully.
** People and obstacles that show in the monitor differ from the actual position and distance. Do not rely completely on the monitor and make sure you check the safety around the vehicle with your own eyes when driving.


Specifications
Major Dimensions & Vehicle Weights (unit)
Overall
Length (mm)
Width (mm)
Height (mm)
Wheelbase (mm)
Engine
Engine
No. of Cyls.
Fuel Type
Motor Generator
Max Torque
Max Torque
Max Output
Max Output
Tires & Wheels
Sizes
Tires
Seating Capacity
Seats
Seats
Hybrid Battery
Hybrid
Type
Interior
More Options
Steering Wheel Audio Controls
Remote Key
Leather Finishes
Parking Sensors
Push Start Button with Keyless Entry
Cool Box
Rearview Camera
Exterior
More Options
Chrome Finishes
Fog Lights
Alloy Wheels
Sunroof
Number of Doors
Spoiler
Running Board
Sporty / Adventure Accents